Venice Apartments - 323 Apartments in Venice (Italy):



We have a wide range of Venice apartments for all needs, for families with children, groups of friends or those on business trips. Our rental apartments have fully equipped kitchens to prepare breakfast, lunch and dinner at home. Being in the heart of the city and close to great restaurants and bars it gives you the choice to experience local cuisine.
All apartments are located in the historic centre of Venice and are equipped with sheets, blankets and towels for the number of guests.
If you have special needs we will be happy to help you to make your holiday even more memorable.

36.116 people stayed in our apartments and spent an unforgettable holiday.
Latest booking: 10 minutes ago.


Apartment Number 364 can accommodate up to 7 people from 125€ per Night

Guest Rating: 5/5

The living room is large and bright, in addition to television, there is a comfortable double sofa bed. To complete the description there are a fully equipped kitchen, and a bathroom with shower (completely renovated on January 2015). This apartment is large and extremely comfortable: a five-minute walk from the Rialto Bridge and less than ten minutes from St. Mark square. It is spread over an... View Details

Apartment Number 161 can accommodate up to 5 people from 88€ per Night

Guest Rating: 5/5

This apartment is large and extremely comfortable: a five-minute walk from the Rialto Bridge and less than ten minutes from St. Mark square. It is spread over an area of 80 square meters, it is on the first floor; there are two bedrooms (one triple and one double), whose windows overlook the charming Santa Marina square. The living room is large and bright, in addition to television, there is a... View Details

Apartment Number 278 can accommodate up to 6 people from 88€ per Night

Guest Rating: 5/5

Equipped with most amenities, this apartment is on the fourth floor in a building in "San Polo" district. There are a <b>large living room with a double sofa-bed</b>, one bathroom with shower, a kitchen, one single bedroom and <b>one bedroom with double bed and a single sofa bed</b>. Besides TV in the living room, there is one TV in each bedroom. From the... View Details

Apartment Number 127 can accommodate up to 5 people from 75€ per Night

Guest Rating: 5/5

Lovely apartment on the third floor of an historic building close to Campo S. Aponial, 1 minute walk from the Rialto Bridge. The waterbus stops of "San Silvestro" or "Rialto Mercato", allow you to get into the apartment without having to cross any bridge, in 1 minute. The apartment has been completely renovated at the beginning of 2013. It consists of two double... View Details

Apartment Number 164 can accommodate up to 4 people from 63€ per Night

Guest Rating: 5/5

Comfortable apartment of 55 square meters, it is located in the historic center of Venice, in the Castello district less than a five minute walk from the Rialto Bridge. It is located on the first floor, it can accommodate up to four people, there are a bedroom and a bathroom, as well as the living area. In the bedroom there is a double bed, if necessary, can be divided into two single beds. The... View Details

Apartment Number 348 can accommodate up to 4 people from 75€ per Night

Apartment in the center of Venice, <b>only a minute walk from St. Mark square</b>. It will allow you to live fully the magic of Venice, it can just <b>open the windows to hear the voices of the gondoliers</b> and from the terrace you can enjoy a beautiful view of St. Mark's bell tower. The apartment is on the third floor of a building in the historic center of Venice, in... View Details

Apartment Number 152 can accommodate up to 5 people from 90€ per Night

Guest Rating: 5/5

This apartment of 55 Square Meters is located in the historical center of Venice, in the Castello district. It is located on the First Floor, it can accommodate up to 5 people and it has a bedroom and a bathroom. The apartment has a fully equipped kitchen and towels and sheets are included. If you have special needs we will be happy to help you to make your holiday even more memorable. View Details

Apartment Number 163 can accommodate up to 3 people from 60€ per Night

Guest Rating: 4,6/5

This bright apartment of 45 sqm is completely attic and is in the heart of Venice. The entrance is in a typical Venetian square with the shaft. The apartment is on the third floor of a building dating back to the eighteenth century, is characterized by ceilings with exposed beams. Then there is a double bedroom with two windows and en-suite bathroom with skylight with input port under the beam... View Details

Apartment Number 162 can accommodate up to 4 people from 73€ per Night

Guest Rating: 4,8/5

This bright apartment of 60 sqm is completely attic and is in the heart of Venice. The entrance is in a typical Venetian square with the shaft. The apartment is on the third floor of a building dating back to the eighteenth century, is characterized by ceilings with exposed beams. Then there is a double bedroom with two windows overlooking the canal, bathroom with skylight, a living room with a... View Details

Apartment Number 153 can accommodate up to 4 people from 78€ per Night

Guest Rating: 4,9/5

Cozy apartment in the district of Castello, in the historical center of Venice, it is on the first floor of a building that overlooks "Rio di San Severo" canal. From all the windows you can enjoy a <b>wonderful view of the canal</b> and of the beautiful facing historical buildings, including "Palazzo Zorzi": the UNESCO palace. Furnished in modern style, this... View Details
Type of Apartments:
Pets Allowed Cannaregio Castello With Baby Cot With Internet With Terrace Canal View Dorsoduro Giudecca For 2 People For 3 People For 4 People For 5 People For 6 People For 7 People For 8 People San Marco San Polo Santa Croce
Eugenia Contacts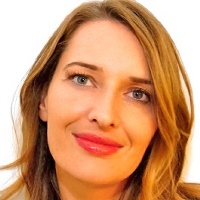 info@veniceapartmentsitaly.com (24h/24)

0039 3274287623
(also WhatsApp)



To Confirm your Reservation:
To confirm your reservation you must pay 20% deposit of the total price. The balance must be paid on your arrival in Venice or a few days before.
We accept:








Booking with us is 100% Safe